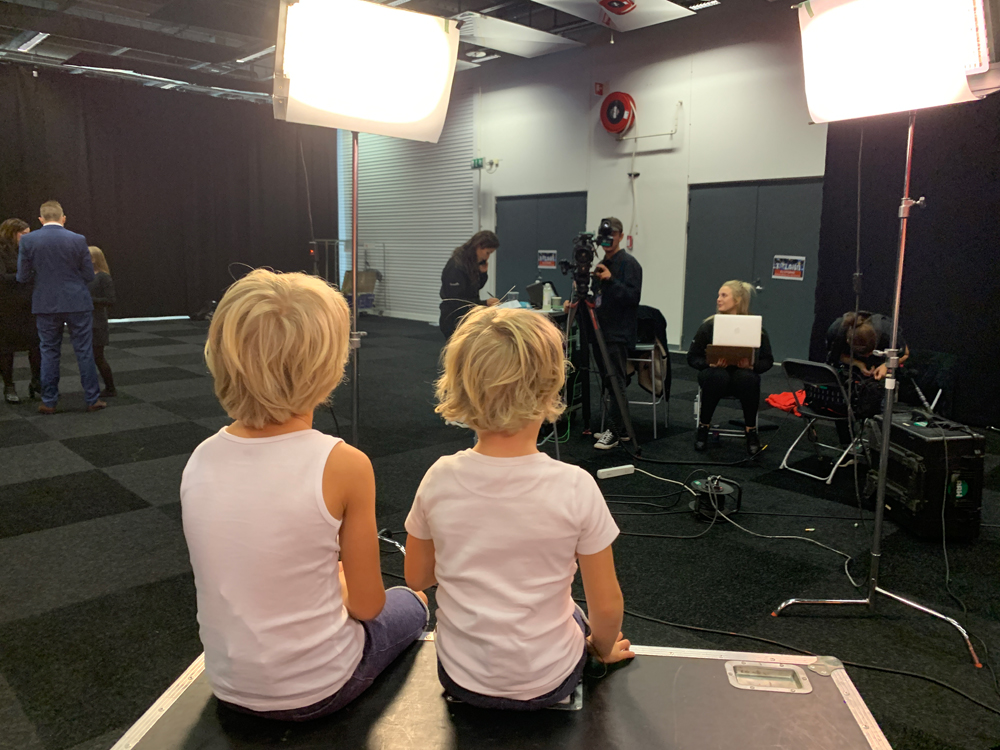 Vad hände bakom scen på Talang 2020!?
(for English see below)
– Ja många har frågat hur dagen såg ut för oss när vi var med i Talang och hur allt kändes så här kommer en liten blogg om just det:
Vi vaknade tidigt och alla var pirriga i magen för idag var det den stora dagen – Talang Audition!!!
Redan 07.30 var vi på plats på Stockholmsmässan för att rigga upp vårt tyg.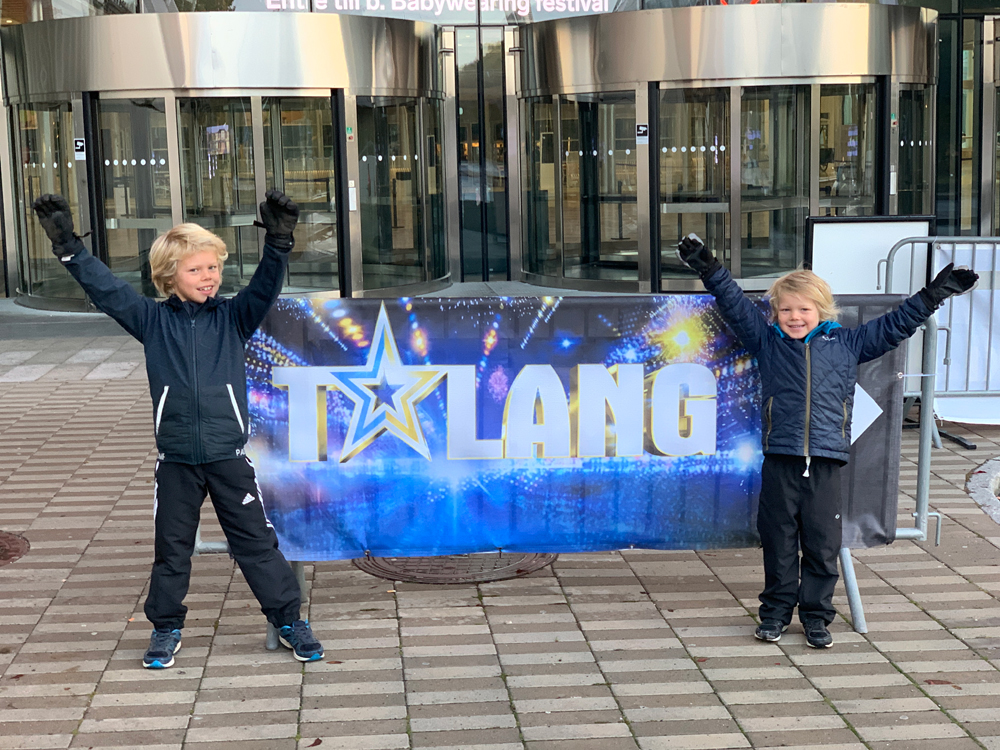 Riggningen på scen (satte upp vårt tyg i taket) gick kanon och vi kände oss redo. Men tyvärr så var det ju 10 timmar tills det var vår tur…
Fast tiden gick fort, vi gjorde intervjuer i alla olika former, pressbilder skulle tas, många olika filmningar allt från när vi värmde upp, förberedde, sprang in etc. Vilken intensiv och spännande dag. Vi var nästan slut innan vår show startade haha!
Jag och Jimmy var lite nervösa hur Hugo och Hannes skulle orka och klara allt detta runt om med kameror överallt, mikrofoner på och av,svara på många olika frågor framför kamerorna etc. men Hugo och Hannes  gjorde ett kanon jobb.
Mellan allt ståhej så blev det lite ballongfotboll, kortspel och spring utomhus. Hannes blev lite mer trött på alla frågor så under en av intervjuerna fick vi ta många pauser så han kunde springa av sig men det får man räkna med när vi jobbar med en 5 åring 🙂
När det väl var vår tid att få träna på scen infann sig ett skönt lugn. Då var det precis som vanligt när vi tränade hemma i Lomma. Vi fokuserade alla fyra, gick ut på scen och allt kändes kanon! När musiken var slut var det helt tyst i den stora lokalen och då såg vi att  TV- teamet som tittade hade tårar i ögonen allihopa. Det blev en så fin och vacker stund utan kameror och tokigheter. Det var nästan så att vi önskade att detta var framför juryn men nu var det bara att ladda om och vänta……
Publiken kom och vi hälsade på mormor, morfar, farmor, farfar och kusinerna Oskar och Nils.
Nu äntligen som sist var det vår tur att gå ut på scen och möta publiken, kamerorna och framför allt juryn! Allt gick så fort från det att det hämtade oss bakom scen. Precis när de kom backstage och kallade på "The Flying Family" och vi var halvvägs till scenen fick Hugo näsblod! Vi hade vita kostymer och vitt tyg, detta var inte bra! Snabbt fick vi springa tillbaka och få stopp på blodet och som tur var lyckades vi.
-En liten filmning bakom scen, en intervju med Per och Samir och sen var det dags!!!!
Hugo pratade så lugnt och fint med juryn och sen började musiken. Det är svårt att säga själv hur det gick, jag minns bara att det kändes som vi var i en liten bubbla där jag hade fullt fokus på Hugo och Hannes. Jag minns även att när jag hänger upp och ner i tyget och tittat ut i vingen där Hannes skulle komma in så tittar både han och Samir på mig och Hugo i tyget och inte på Jimmy som ska visar tecknet för Hannes att springa in! Jag vet att jag hann tänka: -Nej, Hannes missar att gå ut på scen! Men som tur var såg Samir Jimmy till sist och han gav Hannes en knuff i ryggen. Jag har aldrig sett Hannes springa in på scen med sådan glädje och kraft! Jag  fick ett stort leende på läpparna och hann bli riktigt rörd där jag hängde.
Jag minns att Hugo kändes så  fokuserad och lugn på scen och sen plötsligt var numret slut. Nu tittar jag på juryn för första gången och då såg jag att både Lagalya och Bianca gråter och hela publiken ställer sig upp!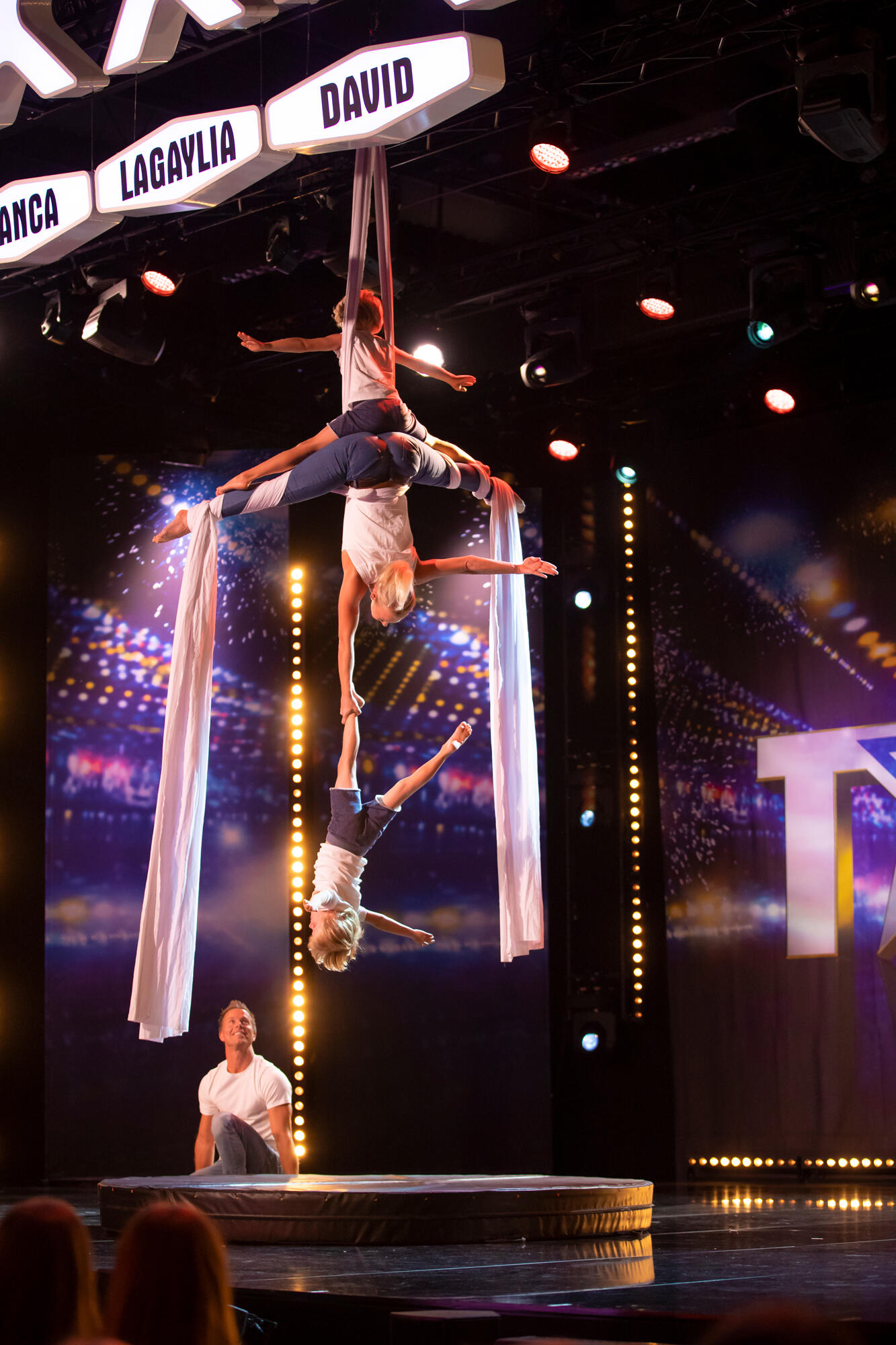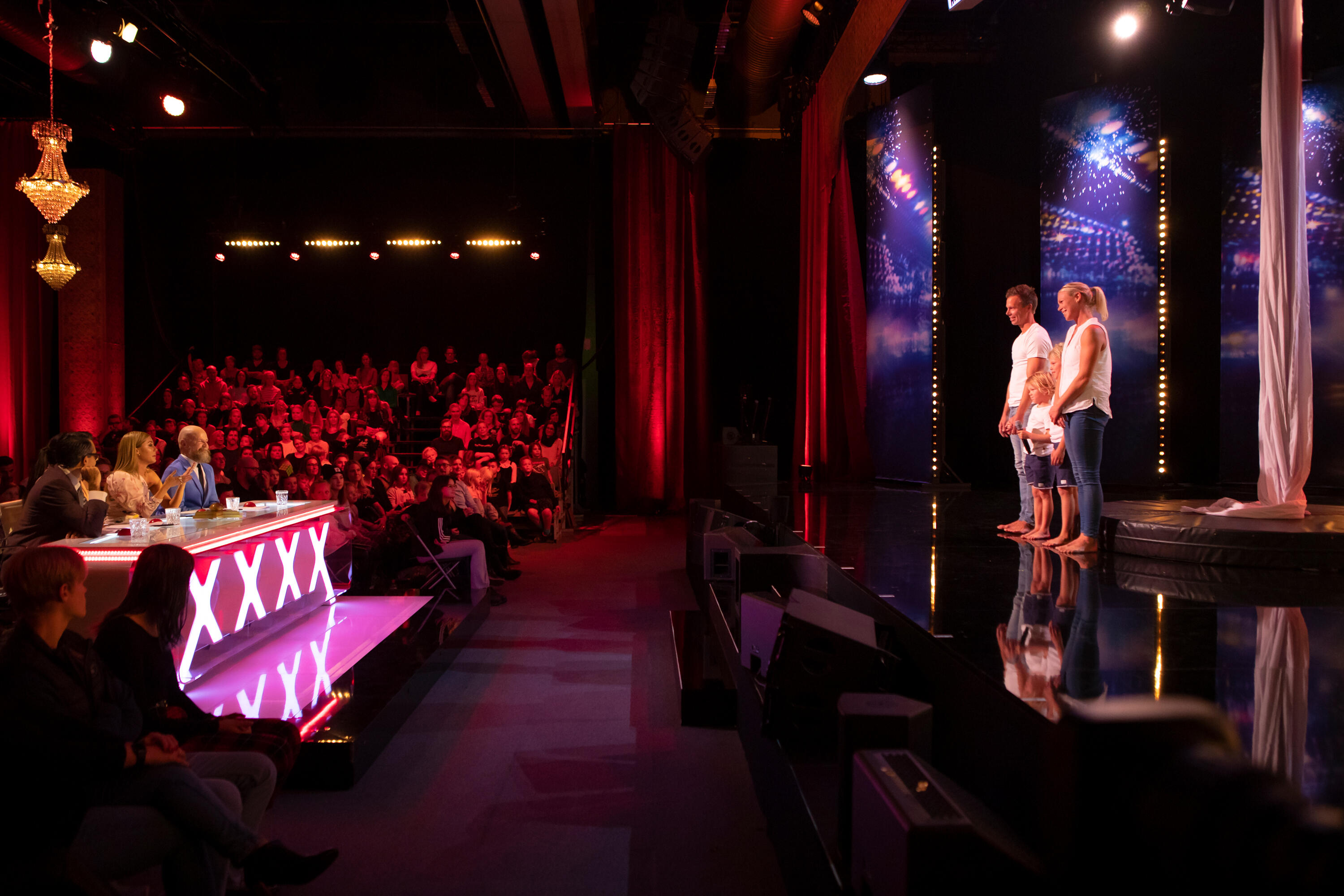 Wow, vi gjorde det! minns jag att jag tänkte. Oavsett om vi går vidare eller inte så wow, att få göra detta som man älskar med alla dem man älskar och kunna beröra både sig själv och hela publiken kändes helt magiskt. Ska jag vara helt ärlig kommer jag knappt ihåg vad juryn sa men plötsligt tryckte David Batra på knappen och nu som pricken över i:et regnade det guld över oss alla!!! Jag tror inte vi fortfarande har helt förstått att vi faktiskt fick Golden Buzzer i Talang 2020 och har gått direkt till final i direktsändning!!!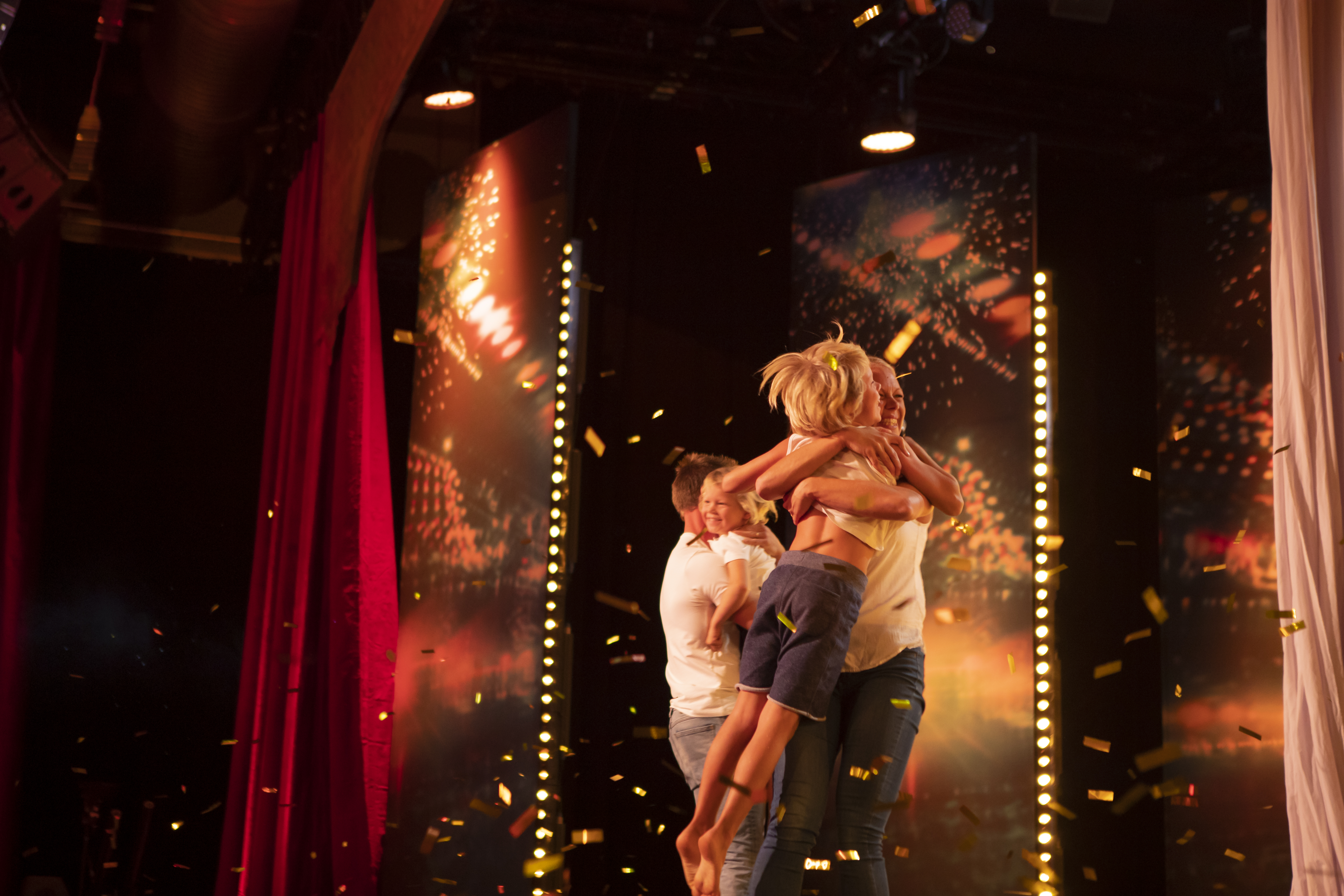 Efter guldregnet blev det intervju igen och hela familjen kom bakom scen och gratulerade!
Många har  frågat oss: – Hur började ni med luftakrobatik? -Har ni tränat länge? -Var har ni lärt er allt?
Så det kommer vi att berätta om i nästa blogg, alltså –The flying familys resa mot Talang 2020!
What happend back stage at Sweden got Talent!!
Many people have asked us what happened back stage when you did Sweden got Talant? How was it? What did Hugo and Hannes think about it? So here comes a blog about our day shooting:
We woke up early and all four of us was nervous because today it was the big day – Sweden got Talent Audition!!!
Already at 7.30 we were at the location in Stockholm to set up and prepare our act. The rigging on stage (putting our silk up etc.) went great and we felt ready. But unfortunately it was 10 hours until it was our turn to perform …
However the time went by quick, we did interviews in all different forms, press photos were taken, many different filming everything from when we warmed up, prepared, arrived etc. What an intense and exciting day. We were quite tired before our show even had started haha!
Jimmy and I were a little nervous about how Hugo and Hannes would manage all this with cameras everywhere, microphones on and off, answering many different questions in front of the cameras etc. but they did a great job. Hannes got a little more tired on all questions so during one of the interviews we had to take many breaks so he could go for a run but he is 5 years so we all fully understood.
We tried to relax with was some balloon-football, card games and running outdoors in between all craziness!
Once it was time for us to get to try our act on stage, a nice calm occurred. Then it was just as usual when we trained at home in Lomma. We focused all four, went out on stage and everything felt fantastic!
When the music was over it was completely silent in the big theatre and then we saw that the TV team that was watching all had tears in their eyes. It was such a nice and beautiful moment without cameras and craziness. It was almost like we wished this was in front of the jury but now it was just to refocus and wait ……
The audience came and we greeted Grandma, Grandpa, Grandma, Grandpa and cousins ​​Oskar and Nils.
The show started and finally second last, it was our turn to go out on stage and meet the audience, the cameras and especially the jury!
Just when they came backstage and called "The Flying Family" It is your turn and we were halfway to the stage Hugo nose started to bleed! We had white costumes and white silk to perform in, this was not good! Soon we had to run back and luckily we succeeded to stop his nosebleed.
A quick interview just of stage and then it was time!!!
Hugo talked so calmly and nicely with the jury and then the music started. It's hard to tell myself how it went; I just remember it felt like we were in a little bubble where I had full focus on Hugo and Hannes. I also remember that when I hang upside down in the fabric and look out into the wing where Hannes would come in, both he and Samir look at me and Hugo in the fabric and not on Jimmy who tried to show the sign for Hannes to run on stage!: -No, Hannes will miss going on stage, I thought! But luckily Samir finally saw Jimmy and gave Hannes a little push. I have never seen Hannes run on stage with such joy and power! I got a big smile on my lips and a tear in my eyes where I was hanging. I also remember Hugo felt so focused and calm on stage and then suddenly the number was over.
Now I look at the jury for the first time and then I saw that both Lagalya and Bianca were crying and the whole audience were standing up! -Wow, we did it! I remember thinking.
Whether we go further or not, getting to do what you love with all those you love and being able to move both yourself and the entire audience felt absolutely magical.
To be perfectly honest, I hardly remember what the jury said but suddenly David Batra pressed the button and it rained gold all over us !!!
I don't think we still fully understand that we actually got the Golden Buzzer in Sweden got Talent 2020 and are direct qualified to the final, broadcasted live!
After the goldrain we did an interview again and the whole family came behind the scene and congratulated us! What a wonderful day and moment for the whole family to remember!
Many have asked us: – How did you get started with aerial acrobatics? -Have you been training for a long time? -Where have you learned everything? In the next blog we will tell you about that!